When you are trying to enjoy your summer day, annoying bugs like mosquitoes, biting midges, and black flies can put a major crimp in your style.
Besides the maddening buzz and the itchy bites these  insects bring, they often carry diseases that infect humans.
An otherwise perfect summer evening, lounging in the swinging chair on the patio, enjoying a cold Peruvian Pisco is swiftly disturbed by irksome bugs.
Your only solution is taking matters into own hands. Be proactive and keep your personal space bug-free. In other words, if bugs bug you, a badass bug zapper is the answer.
To eliminate these pests, it is important to uncover the best bug zapper. And, as is so often the case, which device is best depends on your needs.
Do you need a heavy-duty machine? Looking for a portable model? Need it in the home or the RV? Is discrete appearance important to you? Or are you looking for a simple unit that just does what it's designed for?
We've got you covered in your clash against your flying foes.
Here are the top 6 most popular bug zappers for gnats, flies, mosquitoes, moths and other nuisances. Thes devices will help keep both your summertime activities and laziness bug free.
Flowtron Programmable Insect Killer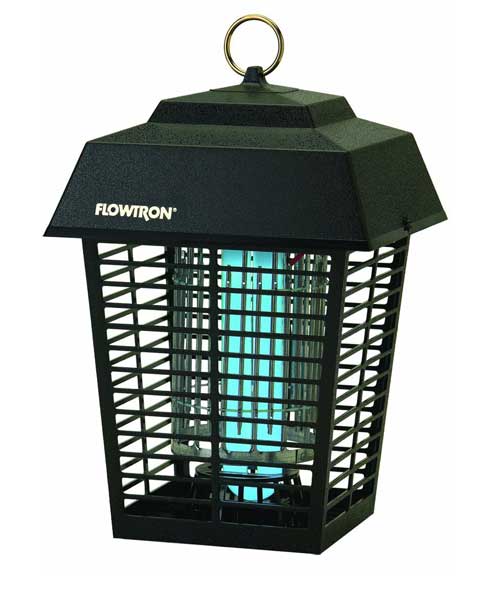 Bang for Your Buck. This bug zapper works effectively for anyone who has a garage, lawn, or patio and lives anywhere but the North Pole. The unit is available in three sizes so that you can choose the model that best fits the needs of your property. Thanks to the large grill, it accommodates insects of all shapes.
Pros:
Aesthetically Pleasing
Bulb is Simple to Change
The self-regulating unit is controlled a by photocell timer
Cons:
Metal Frame Can Cause a Minor Shock
The steel rod construction does not get clogged like mesh materials commonly found on lower quality products and provides a staggered pattern to keep curious fingers and paws from getting burned.
The programmable settings allow you to run the unit only when it is needed so that energy is saved.
The best feature is the programmable photocell timer that will turn the lamp on at dusk. You can let it run until dawn or activate a three- or five-hour auto-shutoff setting.
Alternately, the lamp can be set to run around the clock.
The plastic enclosure, which is styled like traditional rod iron, is pleasing to the eyes and resembles something out of Colonial America.
The ultraviolet light attracts bugs at night, and an octenol mosquito lure helps pull in bloodsuckers that are active during the day.
Use the brass ring to hang it outside, but keep it at a distance from food or other people. Since it attracts numerous insects, you may not enjoy listening to the sound of bugs getting electrocuted.
The zapper's powerful 40-watt bulb and high-voltage grid eats bugs for breakfast, lunch and dinner, so you can finally turn the tables on those bloodsucking mosquitoes.
Tip: this advanced system attracts and kills bugs in a 1-acre area and works great when placed 20 feet away from a deck or patio. The unit is intended for outdoor use only.
The Flowtron Bug Zapper with Programmable Photocell Timer is a  state-of-the-art unit. Keep in mind that bulbs should be replaced annually. Lures should be replaced monthly.
Aspectek Indoor Insect Killer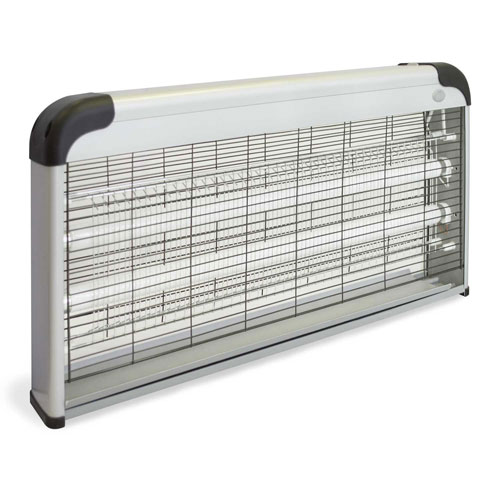 Inside Job. The only thing more annoying than swatting insects outdoors is swatting insects indoors. This bug zapper allows you to enjoy time in your home. Its size and design is not intrusive, so it will not dominate your interior decor. Its ultraviolet black light attracts pests within 6,000 square feet.
Pros:
Pleasing to the eye (unit has a discreet low-profile design)
Easy to Use
Chemical Free
Cons:
Frame Can Cause a Shock
Cord not Grounded
Bugs are attracted to the bright UV light and killed by the charged grid. Although it's intended for indoor use, it can also kill bugs in a garage, basement or under a covered porch.
No chemical lures are required. Your lungs will appreciate the electric power that takes the place of toxic chemicals used in other products, which create unhealthy fumes. With every snap, crackle, and pop, you will know your investment is working well. The chain hanger makes it simple to install anywhere.
However, since the metal frame can cause mild shocks, it should be kept away from children and your fuzzy four-legged friends.
Aspectek makes two popular indoor bug zappers.
For small rooms, the brand's compact 20-watt unit will handle all of your bug problems.
For larger areas and more serious bug invasions, opt for the larger 40-watt unit. Both use two white ultraviolet bulbs that are mounted in a low-profile housing that's just 3 inches thick.
Plus, the catch tray can be removed and washed for easy maintenance. Stink bugs, moths, mosquitoes, flies and bugs large or small will be terminated by this insect assassin.
Tip: For best results, hang the unit about 6 feet from the ground using the provided chain to create a 6,000-square-foot bug-free zone. You can also set the unit on a floor or table. Just make sure that your pets or kids won't get zapped.
The Aspectec Electronic Indoor Insect Killer Zapper keeps your indoor areas free from bugging infestations.
Flowtron FC-8800 Diplomat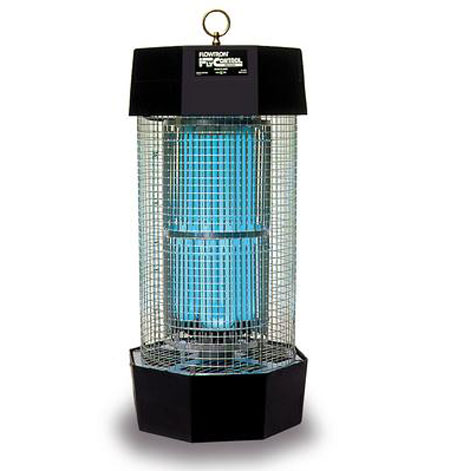 Big Bad Bug Zapper. The Flowtron FC-8800 Diplomat is the Cadillac of bug zappers. If you brag about your mosquito problem, if you're plagued by giant gallinippers, if you live in a swamp, if you need transfusions from all the bites, this is the best bug zapper for you.
Pros:
Covers a Large Area (the super-powerful grid will kill every bug within 2 acres)
Can be Used Both Indoors and Outdoors
Powerful
Cons:
Extremely Bright Light
Large Size
It's powerful. This zapper controls up to two acres outside or 1,200 square feet indoors. This means it can be out of view and still do a great job keeping insects out of sight as well. With a 2-acre coverage area, you'll kill all the bugs in your proximity. Who cares if it's overkill? When it comes to infuriating mosquitoes, you can't kill too many.
Anyone with a barn will find it ideal as a protectant for animals and an effective way to eliminate all flying pests.
The UV light is extremely bright and draws in the bugs. Keep this in mind, it is not as bright as construction lights, but do keep in mind it is much shinier than the ordinary glow of smaller zappers. So unless you want to revisit your night club days, the radiance may be a distraction.
The 120-watt UV lamp will silently seduce any mosquitoes in the area. The lamp's killing grid is charged with 5,600 volts, so if you've got skeeters the size of birds, this zapper will finish them off.
This device is ideal for indoor or outdoor applications, dumpsters, trash receptacles and barns. It would probably work in a landfill in the Everglades, and it has an extra-long cord.
This bad boy is known as the "Big Kahuna" of insect control. Before you know it, the bugs will be surfing into the collection tray.
Click here to purchase the Flowtron FC-8800 Diplomat.
Stinger Cordless Rechargeable Insect Zapper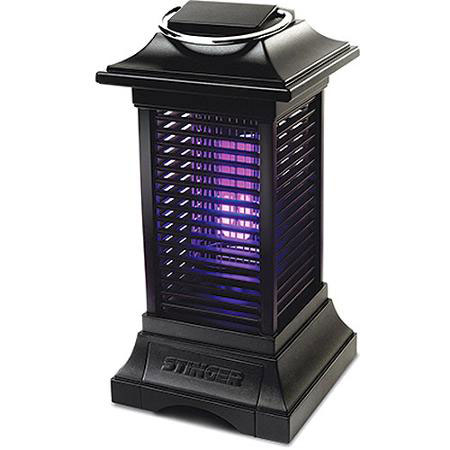 Best Portable Option. This insect zapper functions as a regular LED light and a bug killing machine. At the touch of a button, the light from two white bulbs are exchanged for a black UV light that attracts the bugs.
Pros:
Cordless
Aesthetically Pleasing
Easy to Clean Tray
Indoor/Outdoor Use
Effective
Cons:
Small Coverage Area
The lithium ion battery only runs for three to four hours.
You can't operate it while plugged in.
Thanks to the cordless option, it is not necessary to be next to an outlet during use. The sturdy metal ring makes it easy to hang in the garage or kitchen, next to the pool, or by the patio. The engineering details provide added safety while cleaning the tray.
However, the coverage area includes a 625 foot radius, so a large property will require multiple units outside. If you don't have an outlet around every corner of your home, this cordless insect zapper by Stinger is a great option with an attractive price. Hang it near your patio. Use it in your RV, or take it on your next camping trip.
The unit has LEDs if you need a portable lantern, a black light for attracting bugs and a smelly octenol lure that you might not want to use indoors. The good news is that this bug zapper is almost as effective without the lure.
To keep your fingers from roasting like hot dogs on a barbecue grill, a safety switch deactivates the killing grid during removal. The small profile does not take up much space, especially when you are indoors.
Keep in mind that while using it indoors near a power source you can't charge the battery and run the light continuously. Don't be fooled because it's portable, despite the fact that you'll be limited to four bug-zapping hours, this device is more powerful than you might expect.
Tip: for best results, place the light about 10 feet away from where you're sitting to enjoy 600 square feet of clear airspace.
Need potent portable insect elimination? Win the battle against the swarms with the Stinger Cordless Rechargeable Insect Zapper.
Black Flag BZ-40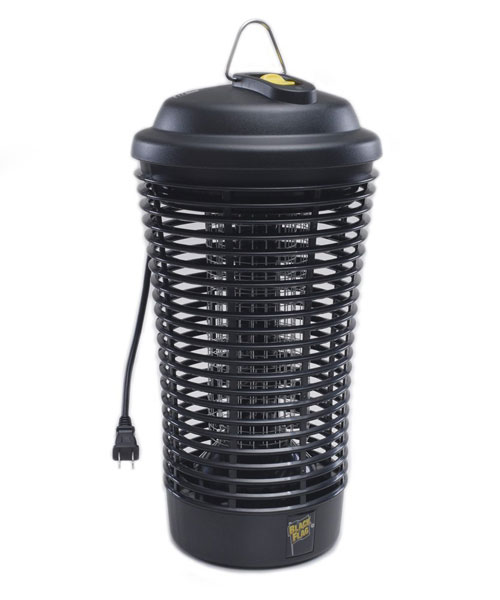 Versatile option. Enjoy a swat-free summer night with high-tech device that can be used both indoors and outdoors. Black Flag is the # 1 consumer recognized brand in the Bug Zapper category.
Pros:
Budget model
40 watt light is easy to the eyes
Energy efficient
Long-lasting bulb
Kills bugs like it's supposed to
Easy to clean
Cons:
Octenol smell (don't hang it too close)
Black Flag's superior voltage packs a wallop for outdoor pests, utilizing a 5,500-volt current to attract native flies, mosquitoes and other flying critters. And you won't need to worry about your electric bill: the BZ-40 offers a light sensor that powers on only at night when you need it most.
It also doesn't detract from your backyard lighting: the easy to replace 40 Watt black bulb works in conjunction with a built-in octenol lure, which will tempt even the smartest of mosquitoes.
With many options on the market, BZ-40 is claimed to exterminate 40% more insects than its competitors while it won't break the bank. It also offers a solid 3 year warranty with purchase.
So when the sun sets, you can raise your Black Flag like a pirate's jolly roger in triumph over your cookout's biggest enemy.
Click here to read reviews and order your Black Flag BZ-40.
Westinghouse Solar Bug Killers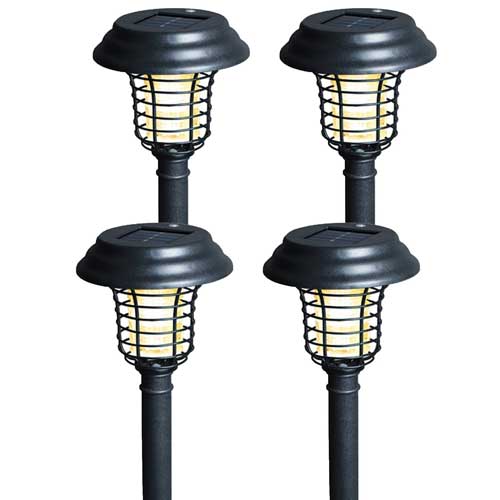 Multi-Purpose Attack. More is always better, so this set of four solar powered bug killers will perform well to keep your yard free of pests.
Pros:
Solar Powered
Dual Purpose
Decorative Design
Cons:
Small Coverage Area (limited to 400 square feet per light)
Somewhat gimmicky. The concept is nice but execution isn't optimal.
As a result, some people swear by these things, others found they didn't work
You may already have lights staked throughout your property, but a few of these devices offer the ability to change between regular lights and bug zapping performance with the flip of a switch.
Within seconds, you can turn illuminating lights into bug guzzling devices. Thanks to the solar power, you are not confined to placing the items near outlets or replacing batteries every few days.
Each lamp has the perfect blend of form and function and contains a UV black light that attracts and kills annoying insects.
These dual-purpose bug zappers look and work like traditional path lights. In theory they look great around the yard by providing extra brilliance and convenient pest control.
When the sun goes down and the bugs come out, flick the switch on the UV lamp and let the killing begin.
Plus, they come in a convenient four-pack to quadruple your bug-zapping potential. Unlike other cordless zappers, you don't have to bring these babies inside to charge.
They use the sun's rays to power a nickel–metal hydride battery designed especially for high-drain applications. If bugs aren't a problem, use the amber LEDs to illuminate your patio, walkway or garden.
The lamps work in most weather, and if things get really bad, you can always use the lamps inside as well.  To preserve their useful life, you should remove them from the ground when winter hits.
Tip: make sure to thorougly read reviews to see if these will help in your situation.
Westinghouse Solar-Powered Bug Killer Stake Lights are bug whackers in disguise.
Wrapping it up
Back in the old days, when you got a mosquito bite, you dabbed on calamine lotion and tried to ignore it.
Looking back at it, those were crazy times. Especially considering the fact that people used to spray fogger in the kitchen while cooking a family meal.
Nowadays, mosquitoes carry all kinds of nasty diseases, and we're afraid to use insecticides.
Fortunately, these old-school bug zappers offer a chemical-free solution, and the technology is better than ever. These 6 models are the best bug zappers for the job, and they'll do all of the work for you.
Start using one, and people may actually come to your barbeques again.
Click here if you're looking for handheld insect zappers.