It's a cold hard fact, winter weather drives mice and rats into our homes. In fall, with cooler weather moving in, several critters will be dying to invade your home to stay nice and warm.
Mice breed fast and one mouse taking up residence in  your home may result in a populations that exceeds 200 specimens within a matter of months.
Thinking about it just makes you want to curl up in bed, feet safely off of the floor until you can come out of hibernation in the spring. If all you had to go up against were a few ants and the occasional spider, it wouldn't be so bad.
It's those squirmy little mice that you dread. With beady eyes and worm-like tails, they infest the walls and comfy corners of your home without a second thought of consideration towards you and your family.
How will you keep these pesky rodents from bedding down and chewing up the walls of your home?
It makes you wonder, are there effective ways to get rid of mice naturally? To get rid of mice without killing them.  After all, you don't want a bunch of dead mice laying around, rotting behind the cupboards or walls causing an odor problem.
Obviously you're not looking for woolly methods unrealistic treehuggers would use but a humane way to get rid of the pest that actually works.
Here are your options. Keep in mind that although popular, they are not evenly effective. We have listed pros and cons of each method.
The first and most important step is prevention.
How to prevent mice from entering your home
As soon as summer months start to slip away, it's time to start thinking about your strategy for keeping mice out of the house.
Create barriers and block any entrances. It's a tough job, but somebody's got to do it because once mice have settled in they can be extremely hard to get rid of.
Mice commonly have their nests in attics, lofts, storage boxes, and wall interiors.
The first step in mousy warfare is to work from the inside of your home out to block any holes and tunnels mice have created to get in.
How far should you go in blocking holes?
Key here is to seal up every opening mice could enter your home through.
Repair holes in outside walls, floorboards or skirting boards. Fix broken air bricks.
Tidy up cupboards.
Remove nesting material.
Inspect if doors (especially the garage door which is often the main entrance for mice) seal well. If not make sure to ensure it does seal well.
Keep in mind that the common house mouse (Mus domesticus) is approximately 2 inch long and weighs about an ounce allowing it to sleep through openings just slightly larger than a pencil.
Mice can enter through extremely small holes.
Other common, uninvited guests are yellow-necked mice, wood mice,  and brown rats.
What to use as blocking material?
Depending on the size of the hole, you can either block it with something like a scouring pad or dish sponge, or you may need to repair the hole by filling it with plaster or caulk.
Steel wool for smaller and wire mesh for bigger holes if generally recommended by pest control professionals.
Either way, by starting from the inside of the house and working your way out, mice that are attempting to get in through the blocked holes will probably give up and exit through the outer holes on your house.
Make sure you've sealed all holes inside before starting on the outside
You can easily find entrances where mice have tunneled through by checking for droppings, stains and undesirable smells these rodents leave behind.
Once you're sure the mice have fled the scene, start on the outer walls and seal them up to prevent curious mice from coming back and tunneling a new hole.
Keep your home tidy
Mice love nothing more than a dirty house. Not only stinking garbage but even lingering food crumbs make your home an open buffet for these little critters.
You can easily prevent mice in your home by making it as unappetizing to them as possible.
Make sure all the surfaces in your home are clean and that food is not left laying around in the open air where mice can smell it.
Mice don't roam large areas. They generally nest near their food source, so the critical element of effective mouse control is to find their food source. Once their food source is removed the mice can not survive.
Keep your floors swept to reduce food particles laying around and vacuum at least once a week. You might not see any crumbs in the carpet, but even a tiny fleck of a Cheeto can be detected by mice.
Keep pet food and grass seed in closed containers that mice aren't able to chew into.
Change garbages often and keep your outdoor ones a safe distance from your home. Garbages are like homing beacons for mice.
Use smells that mice hate
Although garbages may ring the dinner bell for mice, some sources claim that mice absolutely hate certain smells and as a result will stay far away from them.
Often recommended is peppermint oil which is a natural solution that supposedly repels mice with its strong scent. Mice have extremely sensitive noses, so any smell they don't like hits them much harder. Peppermint oil will also keep insects out of your home, especially spiders.
Simply place cotton balls with a few drops of real peppermint oil on them around your home; target areas where you suspect mouse activity.
Natural home remedies that involve cayenne pepper and Tabasco sauce are also helpful because of their spicy scent.
Garlic salt will keep rodents away for a time, but eventually they'll work their way past it. Stick to stronger scents to deter mice. They're not only organic, but they won't harm the mice if that's something you wish to avoid.
The downside of using sprays or scents is that these are not science-backed solutions. They are not generally recommended by professional pest control companies.
Mice may find the smells irritating but they will be able to find their way around them so these are not a viable solution when it comes to natural ways of getting rid of mice.
Use electronic repellents
Along with a sensitive nose, mice also have excellent hearing that makes them susceptible to high-pitched ultrasonic waves. At least, that's the theory.
Using sonar repellents such as the well-reviewed Rid-Tech Ultrasonic Pest Repeller is a humane solution to mouse traps and poisoned baits.
However, mice can become accustomed to the sounds of ultrasonic devices and will eventually ignore them.
There's also the fact that the sound is blocked by walls and furniture, thus diminishing their effectivity.
There's little to no scientific evidence that high frequency sounds emitted by electronic mouse repellents are effective.
Electronic devices may an effective solution, but only temporary.
The best way to get rid of mice without killing them
Poisons and inhumane mouse traps will leave a litter of little corpses around, which isn't healthy for anyone involved. Another downside of poisons; they are bad for mice so they are for children and pets too.
There's also the fact that traditional mouse poisons cause internal bleedings in the mice klling them slowly and painfully which puts many people off.
Luckily, there are more friendly ways to keep mice away that don't involve toxic chemicals and your own personal mouse graveyard.
Non-lethal mouse traps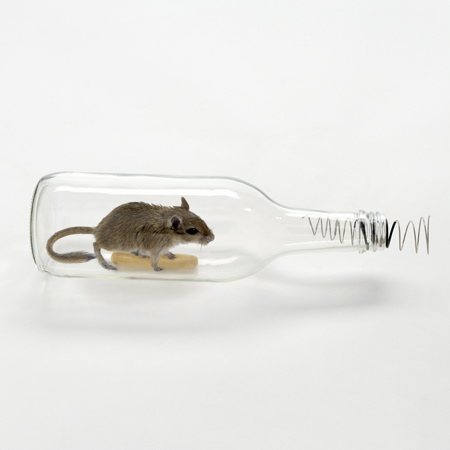 If you find yourself with a mouse infestation that needs more than preventative measures, trapping the mice with non-lethal devices will help you cut down the population.
Live-catching mousetraps are your best solution in case you don't want to kill mice. Some of these traps attract mice via food baits. Once the mouse is inside a door will snap closed, capturing the critter.
Mouse traps are very effective, especially in capturing individual specimens. Make sure to be early in attacking the problem though, once your house has been infested, more extreme pest control measures may be necessary to get rid of the problem.
There are many different kinds of traps. Some devices are available to purchase at a store or online, while others are easy to make yourself at home.
The downside of trapping (inhumane and humane) is that it takes more effort than, for instance, using poison.
The advantage of this method is that it allows you to catch and release mice without having to touch them.
Where to  place traps?
Place traps wherever there are mouse droppings. Commonly behind appliances and throughout the home where the walls meet the floor.
"You want them perpendicular to the wall, with the baited end closest to the wall," Mr. Martin of pest control company Terminix said to the NY Times.
Use an attractive bait
Mice will nibble on pretty much anything, but it helps to use one of their favorite foods.
The mouse love cheese myth
Cheese is surprisingly not as attractive to them as cartoons make it out to be, but if you use a strong enough cheese, it may work better.
Use foods like saltine crackers, peanut butter and small seeds or nuts. Anise seeds are particularly effective.
You can also use bait foods that are sweet, like chocolate or candy. Mice like sugary foods, so don't hesitate to lay down some Nutella spread.
A cotton ball with a few drops of vanilla flavoring is attractive to mice too.
You can even use wet cat or dog food to lure them in.
Where to set the mice free?
Whatever method you choose, removing the mouse from your home must involve dropping them off at least a mile away from your house. Mice, much like squirrels, will find their way back if released too close to home.
With a few mice gone, the food supply suddenly becomes larger for the remaining mice, and they generally take the opportunity to stuff themselves full and breed.
This results in a larger mouse population and only serves to aggravate the problem. Here are a few trap methods you can use to discreetly and humanely remove your mouse problem.
Which mouse trap should you buy?
Buy a trap endorsed by animal rights groups. Whether you're a fan of PETA or not, they do have some pretty effective traps on their website.
You can also check on sites like Amazon to see if PETA or The Humane Society have put their seal of approval on the contraption you've picked out.
One of the cheapest and most effective humane traps is from Seabright and is called the Smart Mouse Trap, and you can buy it on Amazon for around $14.
Although it's not meant to trap bigger rodents such as rats or squirrels, it is very useful for live-trapping mice that make their way into your home.
There's no poisons or snap traps involved; all you have to do is put your choice of bait (they suggest a saltine cracker for this one) into the trap and the door will close when the mouse takes the bait.
You can reuse it as many times as you want to, so it not only keeps the mouse alive, but it saves you money in the long run.
Make your own trap
This method takes a little more ingenuity on your part, but it's the cheapest option available. A common method is to use a large bucket with slippery walls that the mouse can't climb up once they're inside.
A precariously balanced cup tied to the sides with string works fairly well, or you can get an old aquarium (choose a fairly large one) and put the bait directly inside.
The mouse will climb up the makeshift ramp or ladder you put against it and jump down into the aquarium, but it won't be able to get back out because of the slick glass walls.
You can also prop up buckets with coins or an empty toilet paper roll so that the mouse's movements set the trap off. The bucket will come slamming down, trapping the mouse inside without harming them.
Bottom line
Putting any of these methods into practice will not only get rid of your mouse problem, but it will also ease your conscience knowing that you've removed the problem without causing harm to the animal.
Non-toxic, non-lethal methods do better in the long run to both protect your family, as well as the mice, from harmful chemicals and pesticides.
But in the end the key thing is to get rid of the mice one way or the other, if only because they are key hosts of ticks that may carry Lyme disease.
Photo credit: Roger Arquer.